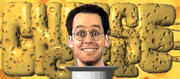 Cheese Girl
processed cheese food spread by
Raleigh Chemical Co.
Consumer Division.
is made from two separate chemicals which mix when forced out of the pressurized can, coagulating into a Non-Toxic cheese-like substance. WARNING! Contents Under Pressure. Risk of inadvertent propulsion in 0 G environments.
It costs 3.50 +.25 Shopnet surcharge (order code 625-94-978). PemCo and Suppcards also accepted.